Did a good amount of cooking this past weekend and wound up having some pretty intensive clean up sessions, a lot of which was the result of a mis-laid spoon or spatula. And while this seemed pretty run of the mill post-meal clean up, I had no idea there was a better way! Introducing the Elevate Range of six cooking utensils by designer Gillian Westley produced by
Joseph Joseph. The utensils in the Elevate series feature weighted handles and a central pivot that prevents your kitchen ware from touching counter surfaces, increasing hygiene while minimizing mess.
According to Joseph Joseph:
The tool heads are made of heat resistant Nylon withstanding up to 240 degrees C/480 degrees F and are ideal for use with non-stick cookware. Each tool has an ergonomic soft grip handle and is dishwasher safe.
Very clever design.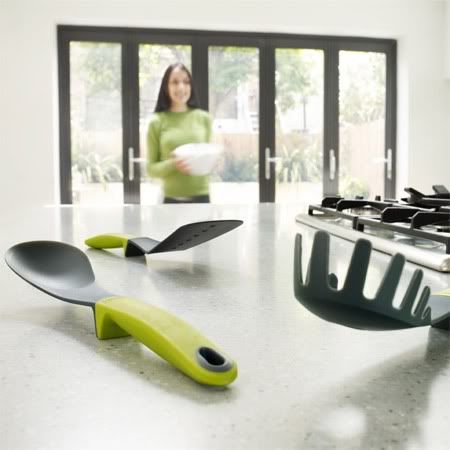 Via